Collections

Le premier long métrage d'animation canadien

Marco de Blois

November 9th, 2020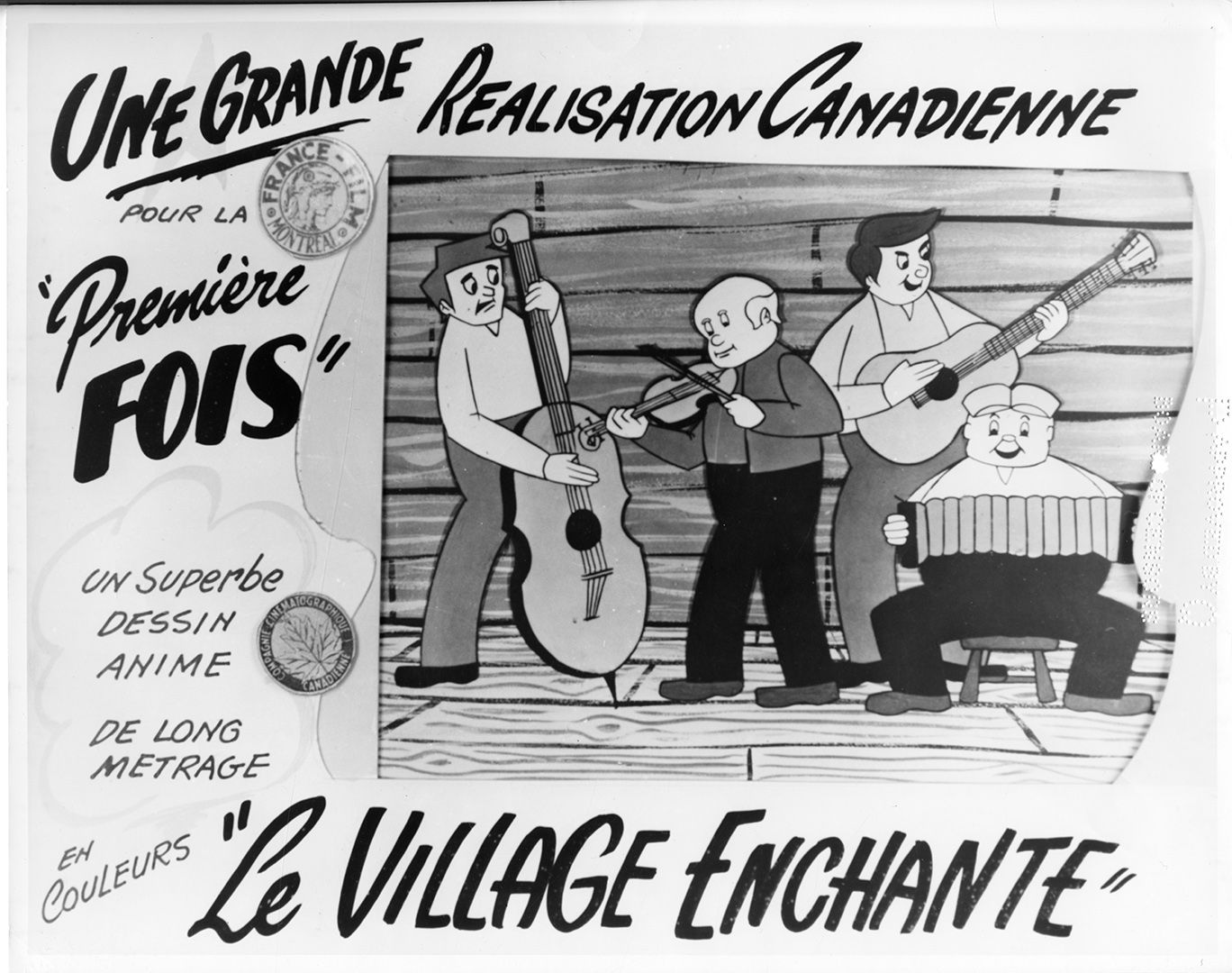 Les frères Réal et Marcel Racicot font partie de ces pionniers qui, avant le déménagement de l'ONF à Montréal et quelques décennies avant l'apparition d'une industrie de l'animation au Québec, se sont courageusement lancés dans l'aventure de l'animation. Sorti en 1955 tout juste à temps pour Noël (la première a eu lieu aux cinémas St-Denis et Alouette à Montréal le vendredi 23 décembre), Le village enchanté est rien de moins que le tout premier long métrage d'animation canadien. Les journaux de l'époque relataient que les deux frères (réalisateurs et producteurs), soutenus par trois collaborateurs, ont consacré cinq ou six ans de leur vie à peindre les 60 000 cellulos (images) composant les 62 minutes du film. Certes, ils ont œuvré dans des conditions artisanales, sans posséder le centième des moyens dont disposaient les studios Disney à la même époque et cette modestie transparaît forcément dans le résultat final. La production bénéficiait néanmoins de l'expérience de Marcel Racicot, qui avait travaillé à l'ONF en réalisant des segments d'animation pour deux films documentaires. Pour nous situer dans le temps, précisons que 1955, c'est un an après la sortie de la production Disney The Lady and the Tramp. Au Québec, Le village enchanté fait suite à de grands succès populaires comme Cœur de maman et Ti-Coq.
Les deux frères y évoquent la colonisation de l'Abitibi, font appel aux légendes québécoises, s'inspirent de gags de dessins animés hollywoodiens, situent le récit dans un cadre épousant la bienséance catholique et intègrent des éléments fantastiques. Réal et Marcel Racicot ont su voguer sur les valeurs du temps, signant un film qui, on doit l'admettre, connut à l'époque un joli rayonnement, ayant été présenté, en plus de Montréal, à Sherbrooke, Ottawa et Québec grâce à l'appui de J.-A. de Sève, alors à la tête de France-Film. Un film pour toute la famille soigneusement conservé par la Cinémathèque québécoise et restauré par Éléphant, mémoire du cinéma québécois.