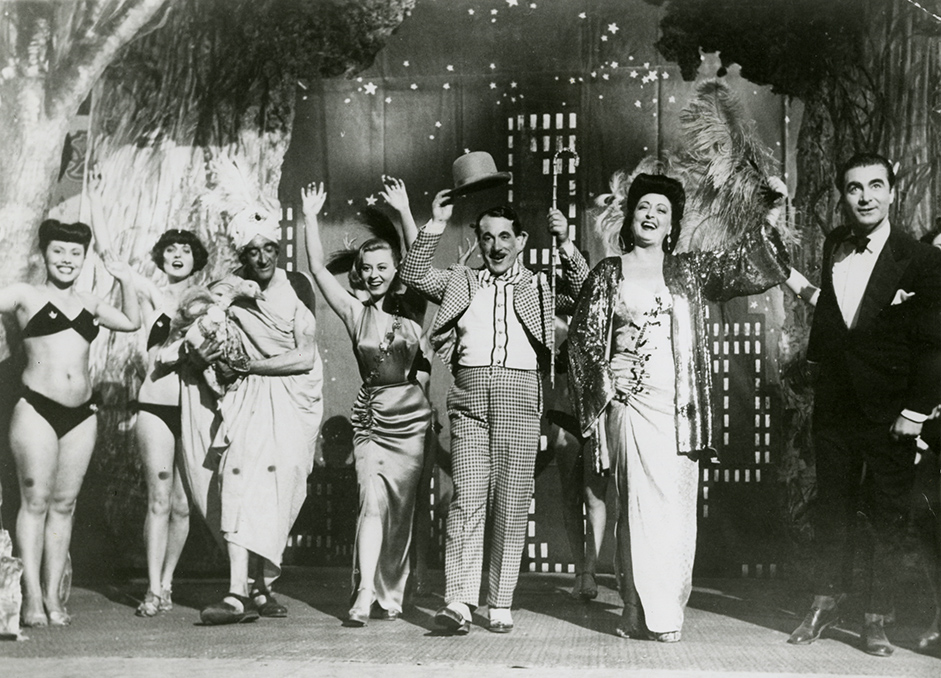 Location
Main screening room
Cycle
Centennial Anniversary of Fellini
As an institution with a consistent focus on the history of cinema, a comprehensive Federico Fellini retrospective is the least we can do to mark his centennial. He was a great inventor of cinematic forms and a complex artist – paradoxical, tormented, light-hearted, provocative, introspective, brutal, idealistic and jaded all at once. He recreated the world through his lens, while remaining a sharp observer of his contemporaries and the many sensitivities of his time.
Variety Lights
De nos collections
Directed by
Federico Fellini, Alberto Lattuada
Actors
Peppino De Filippo, Carla Del Poggio, Giulietta Masina
Synopsis
The adventures of a vaudeville troupe that tours small towns, dogged by their shattered illusions and abandoned ideals.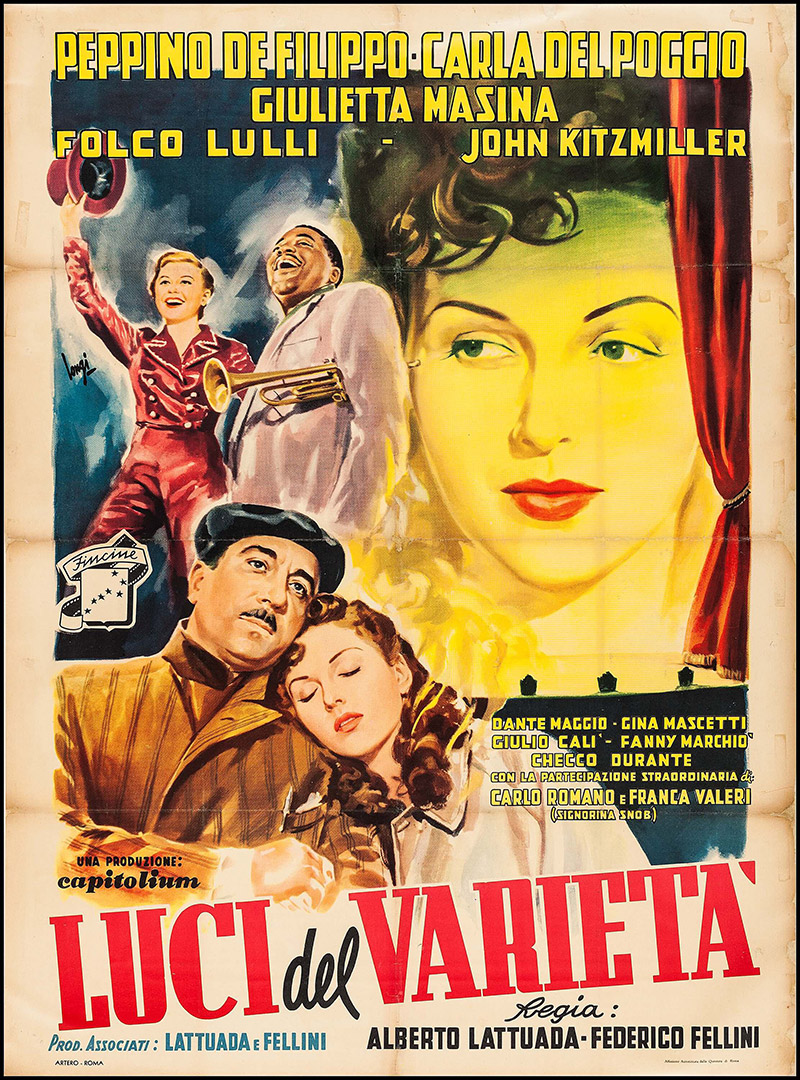 Trailer in the original version. The movie will be in VOSTF.
Silver Ribbon 1950-1951
Winner
Best Supporting Actress - Giulietta Masina
Director
Federico Fellini was one of the greatest Italian writers and directors of the 20th century, and one of the most illustrious filmmakers in the history of cinema. He won the Palme d'or at Cannes in 1960 for La dolce vita, and took home the Oscar for Best Foreign-Language Film four times (La strada, Nights of Cabiria, 8 ½ and Amarcord), a record he shares with his compatriot Vittorio De Sica. Initially associated with neo-realism, Fellini's work evolved over the course of the 1960s toward a unique approach related to European modernism, a movement associated with Ingmar Bergman, Michelangelo Antonioni, Alain Resnais, Jean-Luc Godard and Andrei Tarkovsky. His films grew increasingly to embrace a proliferation of themes, deliberate artifice and the complete erasure of boundaries between dream, imagination, hallucination and reality.
On March 29, 1993, the Academy of Motion Picture Arts and Sciences awarded him a lifetime achievement Oscar, "in recognition of his place as one of the screen's master storytellers." (Wikipédia)



Photo : Collections de la Cinémathèque québécoise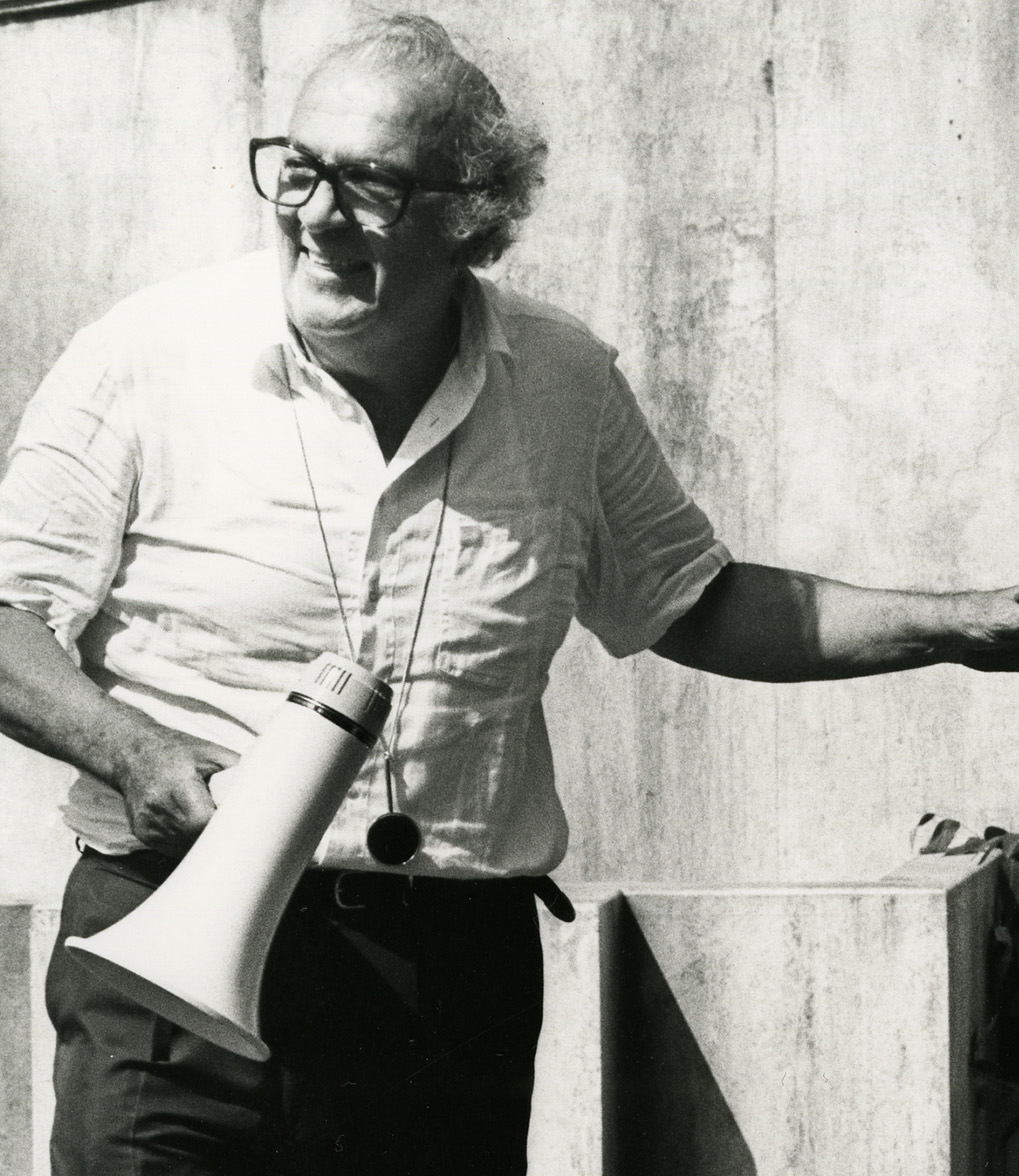 Sur notre blogue
Federico Fellini aurait eu 100 ans en 2020. Il a fait partie de ces cinéastes qui ont triomphé de leur vivant, dont la reconnaissance de leur apport au cinéma a été affirmée sans ambages, ce qui en retour a sans doute influencé les films qu'ils ont pu encore faire. Non pas qu'il ait gagné des prix à tout coup...
Peppino De Filippo: Checco Dal Monte

Carla Del Poggio: Liliana 'Lily' Antonelli

Giulietta Masina: Melina Amour

John Kitzmiller: Trumpet player Johnny

Folco Lulli: the lover of Liliana

Dante Maggio: Remo

Checco Durante: Theater Owner

Gina Mascetti: Valeria del Sole

Giulio Calì: Magician Edison Will

Carlo Romano: Enzo La Rosa

Silvio Bagolini: Bruno Antonini

Giacomo Furia: Duke

Mario De Angelis: Maestro

Vanja Orico: Gypsy Singer

Enrico Piergentili: Melina's Father

Renato Malavasi: Hotelkeeper

Joseph Falletta: Pistolero Bill

Fanny Marchiò: Soubrette
Plus sur Federico Fellini
1950: Variety Lights 1952: The White Sheik
1953: I vitelloni
1953: Love in the City (Segment: Un'agenzia matrimoniale) 1954 : La strada
1955: Il bidone 1957: Nights of Cabiria 1960: La Dolce Vita 1962: Boccaccio '70 (Segment: Le tentazioni del Dottor Antonio) 1963: 8 1⁄2 1965: Juliet of the Spirits 1969: Fellini: A Director's Notebook
1969: Fellini Satyricon 1970: I Clowns
1972: Roma
1973: Amarcord
1976: Fellini's Casanova
1978: Orchestra Rehearsal
1980: City of Women 1983: And the Ship Sails On 1986: Ginger and Fred
1987: Intervista
1990: The Voice of the Moon
C'était quoi Federico Fellini ? - Blow Up - ARTE