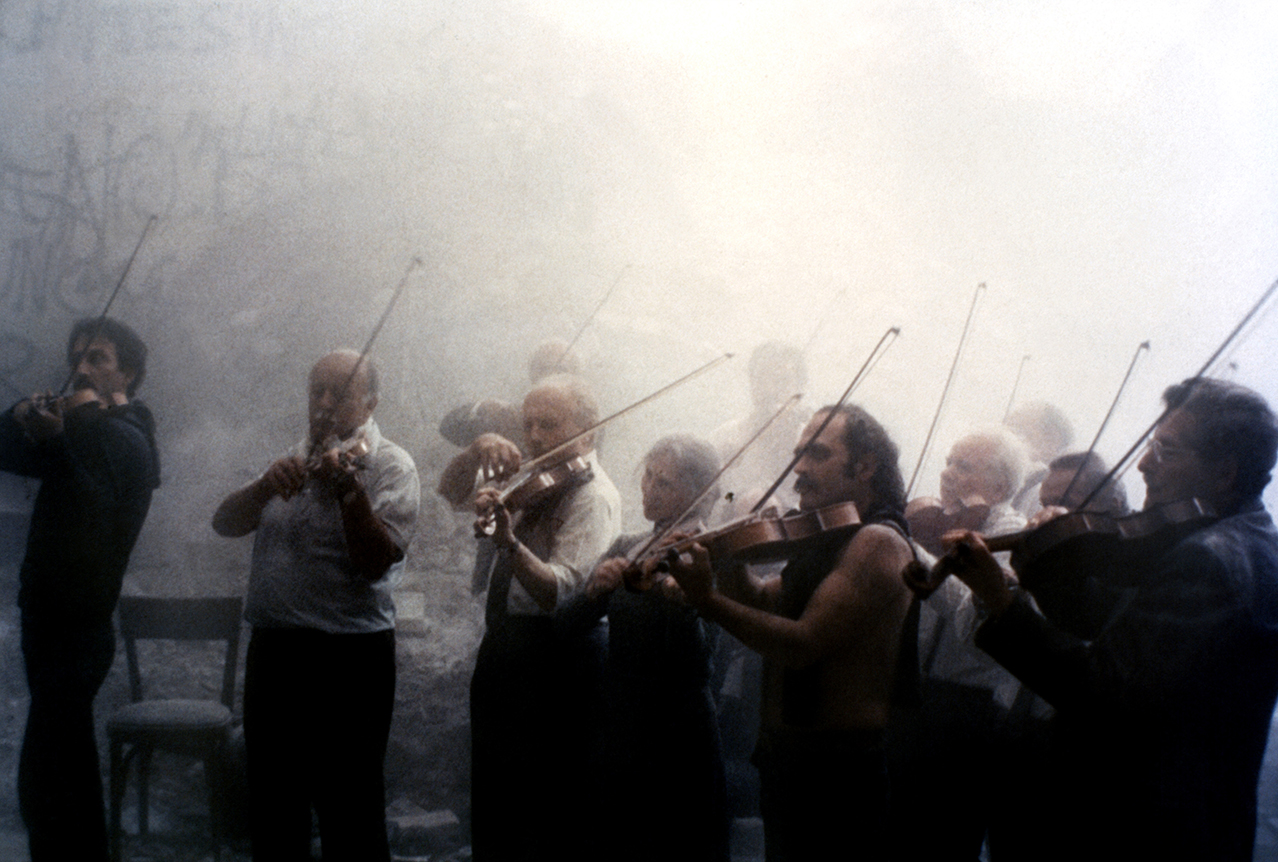 Prova d'orchestra (VOSTF)
Location
Main screening room
Cycle
Centennial Anniversary of Fellini
As an institution with a consistent focus on the history of cinema, a comprehensive Federico Fellini retrospective is the least we can do to mark his centennial. He was a great inventor of cinematic forms and a complex artist – paradoxical, tormented, light-hearted, provocative, introspective, brutal, idealistic and jaded all at once. He recreated the world through his lens, while remaining a sharp observer of his contemporaries and the many sensitivities of his time.
Winner of the 1979 Silver Ribbon for Best Score
Orchestra Rehearsal
Directed by
Federico Fellini
Actors
Balduin Baas, Clara Colosimo, Elizabeth Labi
Synopsis
Felliniesque megalomania feeds on the wild ambition of a symphonic concert. The director seizes the opportunity to create larger-than-life portraits of musicians, bordering on the burlesque.
Trailer in VOSTA. The movie will be presented with french subtitles.
Chicago International Film Festival 1978
Director
Federico Fellini was one of the greatest Italian writers and directors of the 20th century, and one of the most illustrious filmmakers in the history of cinema. He won the Palme d'or at Cannes in 1960 for La dolce vita, and took home the Oscar for Best Foreign-Language Film four times (La strada, Nights of Cabiria, 8 ½ and Amarcord), a record he shares with his compatriot Vittorio De Sica. Initially associated with neo-realism, Fellini's work evolved over the course of the 1960s toward a unique approach related to European modernism, a movement associated with Ingmar Bergman, Michelangelo Antonioni, Alain Resnais, Jean-Luc Godard and Andrei Tarkovsky. His films grew increasingly to embrace a proliferation of themes, deliberate artifice and the complete erasure of boundaries between dream, imagination, hallucination and reality.
On March 29, 1993, the Academy of Motion Picture Arts and Sciences awarded him a lifetime achievement Oscar, "in recognition of his place as one of the screen's master storytellers." (Wikipédia)



Photo : Collections de la Cinémathèque québécoise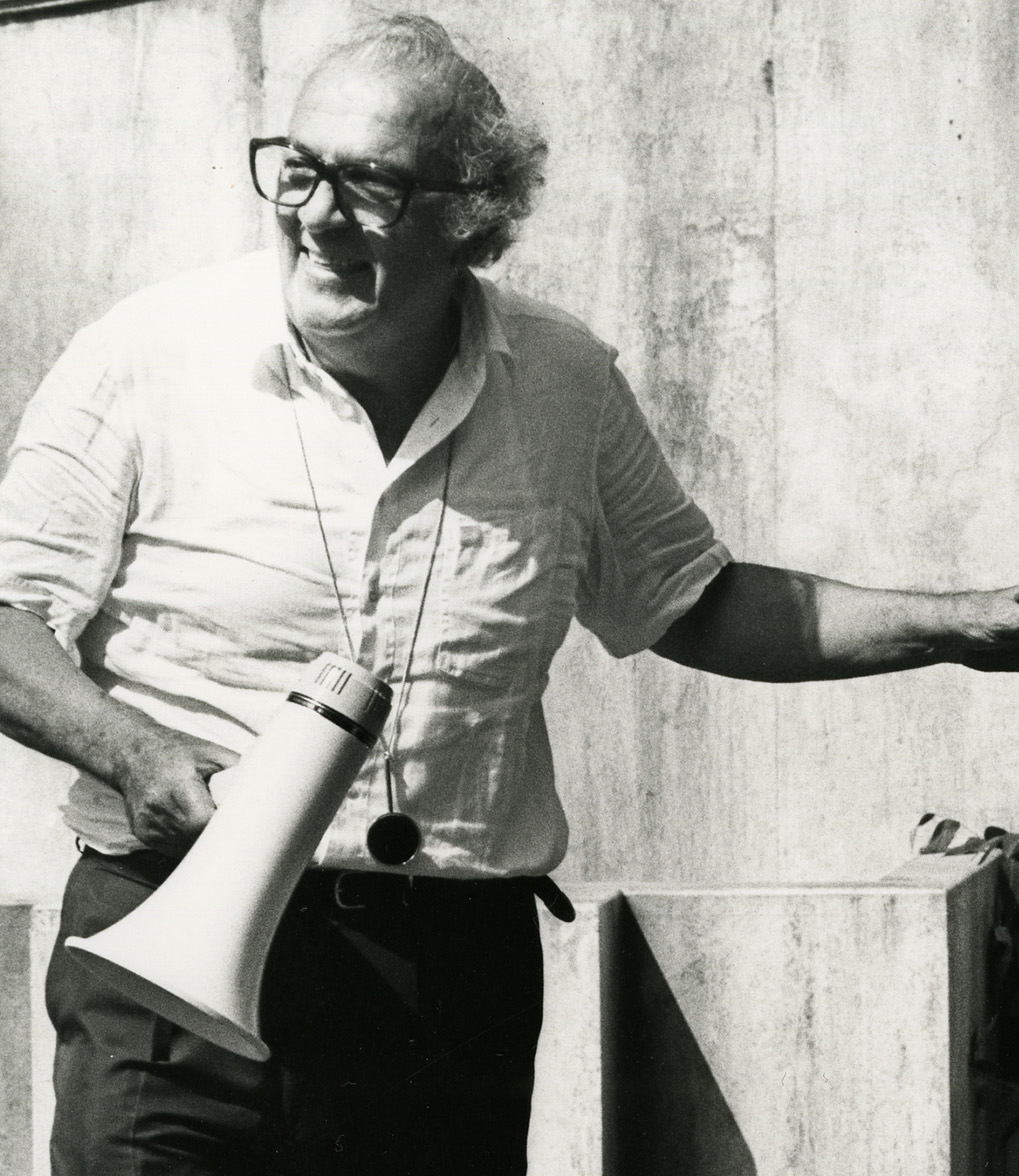 Tourné en seize jours pour la télévision italienne, Prova d'orchestra n'est évidemment pas un reportage aimable ou anodin. Mais une fable tragique où le baroque et le fantastique transcendent toute tentation didactique. Une allégorie mortelle qui serait en même temps un coup de semonce. Le maître de Cinecittà n'est pas très loin ici d'Artaud et de son "Théâtre de la cruauté". Car sa drôle d'apocalypse peuplée de pantins qu'éclaire une lumière blafarde (…) est aussi porteuse d'interrogations majeures.
Michel Boujut
Les Nouvelles littéraires (June 14, 1979)
Sur notre blogue
Federico Fellini aurait eu 100 ans en 2020. Il a fait partie de ces cinéastes qui ont triomphé de leur vivant, dont la reconnaissance de leur apport au cinéma a été affirmée sans ambages, ce qui en retour a sans doute influencé les films qu'ils ont pu encore faire. Non pas qu'il ait gagné des prix à tout coup...
Clara Colosimo - Harp player

Elizabeth Labi - Piano player

Ronaldo Bonacchi - Bassoon player

Ferdinando Villella - Cello player

Franco Iavarone - Bass tuba player (as Giovanni Javarone)

David Maunsell - First violin

Francesco Aluigi - Second violin

Andy Miller - Oboe player

Sibyl Mostert - Flute player

Franco Mazzieri - Trumpet player

Daniele Pagani - Trombone player

Luigi Uzzo - Violin player

Cesare Martignon - Clarinet player

Umberto Zuanelli - Copyist

Filippo Trincaia - Head of orchestra

Claudio Ciocca - Union man

Angelica Hansen - Violin player

Heinz Kreuger - Violin player
Plus sur Federico Fellini
1950: Variety Lights 1952: The White Sheik
1953: I vitelloni
1953: Love in the City (Segment: Un'agenzia matrimoniale) 1954 : La strada
1955: Il bidone 1957: Nights of Cabiria 1960: La Dolce Vita 1962: Boccaccio '70 (Segment: Le tentazioni del Dottor Antonio) 1963: 8 1⁄2 1965: Juliet of the Spirits 1969: Fellini: A Director's Notebook
1969: Fellini Satyricon 1970: I Clowns
1972: Roma
1973: Amarcord
1976: Fellini's Casanova
1978: Orchestra Rehearsal
1980: City of Women 1983: And the Ship Sails On 1986: Ginger and Fred
1987: Intervista
1990: The Voice of the Moon