Location
Main screening room
Cycle
Centennial Anniversary of Fellini
As an institution with a consistent focus on the history of cinema, a comprehensive Federico Fellini retrospective is the least we can do to mark his centennial. He was a great inventor of cinematic forms and a complex artist – paradoxical, tormented, light-hearted, provocative, introspective, brutal, idealistic and jaded all at once. He recreated the world through his lens, while remaining a sharp observer of his contemporaries and the many sensitivities of his time.
Best Foreign Language Film at the 1964 Academy Awards
8½
Directed by
Federico Fellini
Actors
Marcello Mastroianni, Anouk Aimée, Sandra Milo, Claudia Cardinale , Rossella Falk
Synopsis
Guido Anselmi, a famous Italian film director, is suffering from the "director's block". Despite Anselmi declaring that this movie should be an easy one to make, he is having problems with his artistic vision, and in particular he does not want to tell lies on the screen. He's blocked when shooting his new science fiction film, including some veiled autobiographical references, and he has lost interest amid artistic and marital difficulties. As Guido struggles half-heartedly to work on the film, a series of flashbacks and dreams delve into his memories and fantasies; they are frequently interwoven with reality. He is trying to relax in a spa after scoring success for his last film. He can't really have peace, however, as the people who have worked with him in the past are constantly asking for more work to do. He wrestles with his conscience but is unable to come up with a new idea. While thinking, he starts to recall the major events of his life, and all the women he has loved and then abandoned. He's a lot of stress, both at professional and personal level. As he works through these problems in the spa, and he thinks over his childhood. Both at the spa and/or on a film set he's surrounded by many real people he'll portray on screen, including his wife Luisa – he loves her but he does not fully understand their marriage - his mistress Carla, the antithesis of Luisa, and an actress named Claudia who, in his opinion, will be his ultimate salvation.
Trailer in VOSTA. The movie will be presented with french subtitles.
Silver Ribbon 1964
Best Cinematography, Black & White
NYFCC Award 1964
Best Foreign Language Film
Moscow International Film Festival 1963
Academy Awards 1964
Best Costume Design, Black-and-White

Best Foreign Language Film
Kinema Junpo Award 1966 
Best Foreign Language Film

Best Foreign Language Film Director
National Board of Review 1963
Best Foreign Language Film - Italy
Director
Federico Fellini was one of the greatest Italian writers and directors of the 20th century, and one of the most illustrious filmmakers in the history of cinema. He won the Palme d'or at Cannes in 1960 for La dolce vita, and took home the Oscar for Best Foreign-Language Film four times (La strada, Nights of Cabiria, 8 ½ and Amarcord), a record he shares with his compatriot Vittorio De Sica. Initially associated with neo-realism, Fellini's work evolved over the course of the 1960s toward a unique approach related to European modernism, a movement associated with Ingmar Bergman, Michelangelo Antonioni, Alain Resnais, Jean-Luc Godard and Andrei Tarkovsky. His films grew increasingly to embrace a proliferation of themes, deliberate artifice and the complete erasure of boundaries between dream, imagination, hallucination and reality.
On March 29, 1993, the Academy of Motion Picture Arts and Sciences awarded him a lifetime achievement Oscar, "in recognition of his place as one of the screen's master storytellers." (Wikipédia)



Photo : Collections de la Cinémathèque québécoise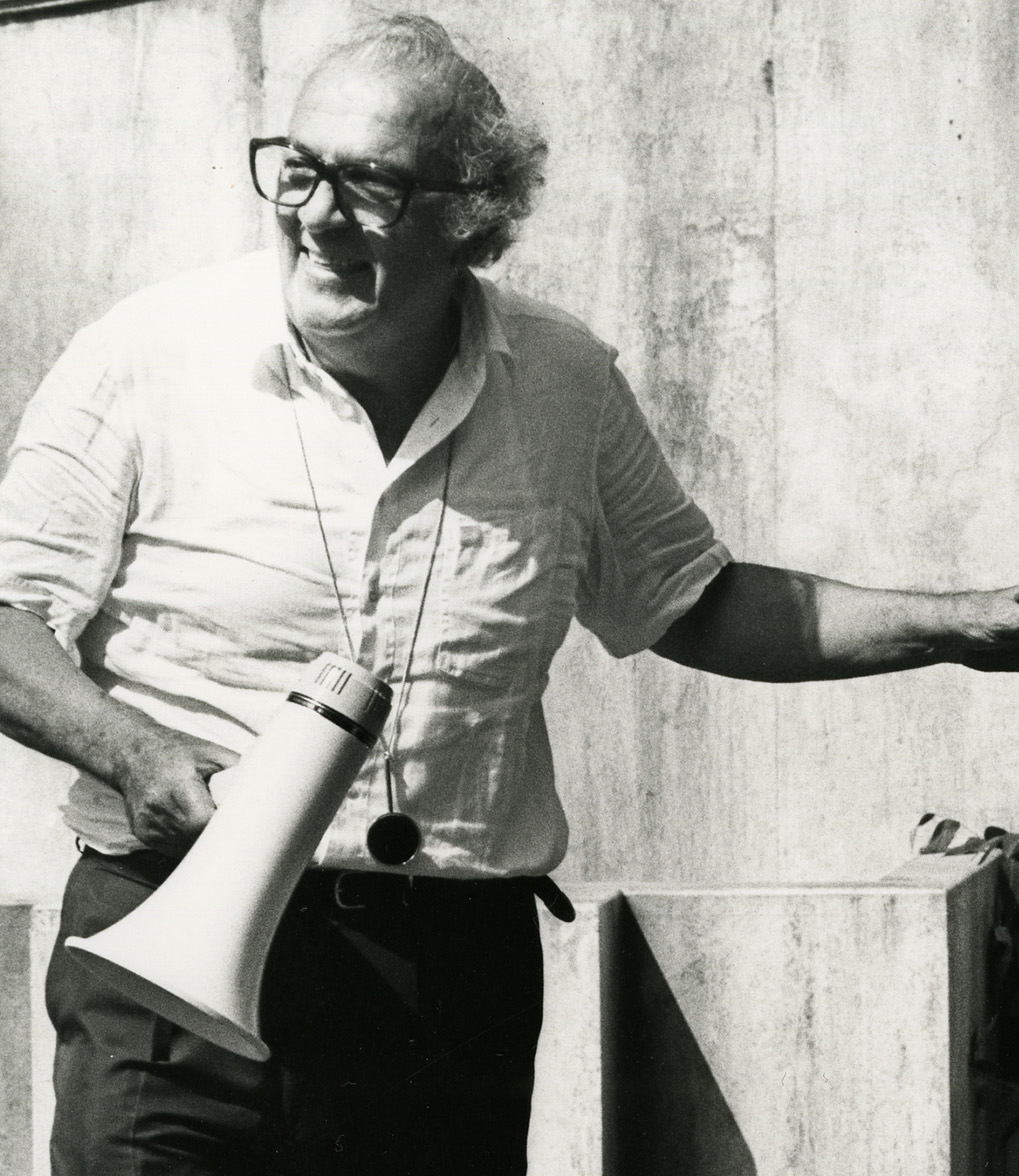 «Rien n'est exagéré dans 8 ½, pas même la fin où le metteur en scène est traîné de force au travail. Ce film, 8 1/2, est le film des metteurs en scène, notre film, et nous devons tous de la reconnaissance à celui qui l'a fait.
François Truffaut
(Journal de tournage de Farenheit 451, 13 janvier 1966)
Sur notre blogue
Federico Fellini aurait eu 100 ans en 2020. Il a fait partie de ces cinéastes qui ont triomphé de leur vivant, dont la reconnaissance de leur apport au cinéma a été affirmée sans ambages, ce qui en retour a sans doute influencé les films qu'ils ont pu encore faire. Non pas qu'il ait gagné des prix à tout coup...
Marcello Mastroianni as Guido Anselmi, a film director

Anouk Aimée as Luisa Anselmi, Guido's wife

Rossella Falk as Rossella, Luisa's best friend and Guido's confidante

Sandra Milo as Carla, Guido's mistress

Claudia Cardinale as Claudia, a film star Guido casts as his Ideal Woman

Simonetta Simeoni as young girl

Guido Alberti as Pace, a film producer

Mario Conocchia as Mario Conocchia, Guido's production assistant

Bruno Agostini as Bruno Agostini, the production director

Cesarino Miceli Picardi as Cesarino, the production supervisor

Jean Rougeul [fr] as Carini Daumier, a film critic

Mario Pisu as Mario Mezzabotta, Guido's friend

Barbara Steele as Gloria Morin, Mezzabotta's new young girlfriend

Madeleine Lebeau as Madeleine, a French actress

Caterina Boratto as a mysterious lady in the hotel

Eddra Gale as La Saraghina, a prostitute

Eugene Walter as an American journalist

Mary Indovino as Maya, the clairvoyant

Ian Dallas as Maurice, Maya's assistant

Giuditta Rissone as Guido's mother

Annibale Ninchi [it] as Guido's father

Edy Vessel as a mannequin
Federico Fellini reçoit l'Oscar du Meilleur film en langue étrangère pour Huit et demi (1964)
Plus sur Federico Fellini
1950: Variety Lights 1952: The White Sheik
1953: I vitelloni
1953: Love in the City (Segment: Un'agenzia matrimoniale) 1954 : La strada
1955: Il bidone 1957: Nights of Cabiria 1960: La Dolce Vita 1962: Boccaccio '70 (Segment: Le tentazioni del Dottor Antonio) 1963: 8 1⁄2 1965: Juliet of the Spirits 1969: Fellini: A Director's Notebook
1969: Fellini Satyricon 1970: I Clowns
1972: Roma
1973: Amarcord
1976: Fellini's Casanova
1978: Orchestra Rehearsal
1980: City of Women 1983: And the Ship Sails On 1986: Ginger and Fred
1987: Intervista
1990: The Voice of the Moon
Podcast
Que se passe-t-il lorsque le réalisateur, qui a déjà signé avec le producteur, est-en panne d'inspiration ? S'il s'agit de Guido, personnage incarné par Mastroianni, c'est une fabuleuse plongée dans un monde onirique. S'il s'agit de Fellini, cela donne un chef-d'œuvre, à travers lequel il nous livre son film le plus audacieux.